EMO YOUR WAY TO FAMILY HAPPINESS!!
(ZOOM ONLINE WORKSHOP on 18 July 2020, Saturday 3pm - 5pm)
An Emotional Intelligence (EI/EQ) BASED WORKSHOP Specially Designed FOR Family Relationship.
Join us for "2" hours of Family Fun and Emotional Bonding!!
Usually, this is conducted as an in-person workshop, priced at SGD150 per family (3 in a group).
Sign up now for a special webinar combo price of just SGD85.00 per family (one zoom account) and get a box of Emotions Run Wild Card Game FREE!
Who This Workshop is For...
"EMO Your Way to Family Happiness" is designed for both parents and children (8yrs to 18yrs) coming together for a session of relationship intimacy building.
Intimacy is defined as having an open, honest and connected relationship where one can be his/her authentic self when with another person.
If you want to strengthen your existing relationship with your children, this workshop will provide you with insights and tools to foster closeness, relationship and trust between the parents and children.
Workshop Program and Learning Objectives
Both the parents and child will have a chance to explore what truly make them "Happy" and being "Joyful" in life while having fun with the Emotions Run Wild Card Game. 
There will be opportunities for Parent and Child to have a "Heart 2-Heart" conversation about happiness. 
By doing so, both will learn how to listen better, communicate better and even creating a close and knitted relationship.
Using the Emotion Run Wild Card Game experience and Leveraging on the power of Emotions Intelligence (EQ), both parent and child will be go through hands on activities and facilitated process to learn tools and techniques on how to enhance the relationship and communication between each other.
Workshop Trainer: Jones Liew
Jones is an experienced corporate trainer, a facilitator, an executive coach as well as the founder of Emotions Run Wild Pte Ltd.
Working with various training and consultancy firms, Jones had trained and developed over 4,000 leaders from Unilever, Abbott Laboratories, OCBC Bank, DBS Bank, Prudential Singapore, Singapore Armed Force, SingHealth Group, Singapore Power Group and many more, have benefited from tangible learning outcomes delivered by Jones over his 15 years career.
He is known within the Banking and Finance, Hospitality, FMCG, Medical and Government sectors for designing and delivering bi-lingual curricula that help leaders build high performing teams. His engaging "learning by doing" coaching methodology combines with NLP, Habits of Mind, Emotional Intelligence (EQ-I), MMS transformation Coaching and many other experiential processes, have allowed his participants to experience and achieve a relatable, relevant and progressive development journey and results.
Jones believes strongly in the human potential to grow. Driven by his passion, he had trained both locally in Singapore and around the region in Indonesia, Malaysia, Philippines, Myanmar, Thailand, India, Korea and China.
Jones is on a mission to inspire organisations and individuals to overcome challenges and barriers to perform at their best with ease and live life to the fullest in any given environment and culture.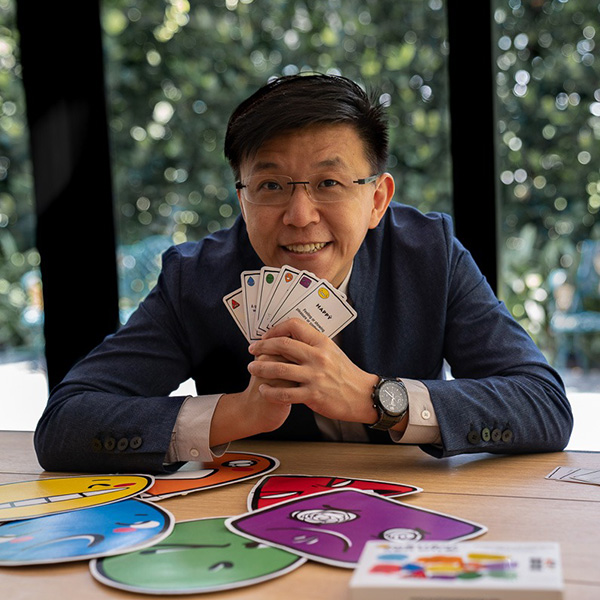 Join us for "Emo Your Way to Family Happiness!"
… and get a box of Emotions Run Wild Card Game FREE!
Zoom Online Workshop
18 July 2020 Saturday
3pm – 5pm